Caracter chino 炊 chuī – cocinar

HSK –
TRAZOS – 8

RADICAL – 火

Elementos  —-  Boca abierta 欠 + fuego 火.
Serie fonética 欠.
Soplar 吹 (chuī fonético) al fuego 火 para avivarlo y empezar a cocinar.
炊具   chuījù – utensilios de cocina.

More posts on Chinese characters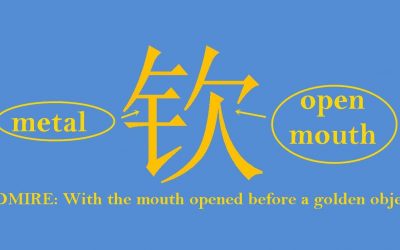 Chinese character 钦 qin – admire. 1. Admire 2. Respect HSK -6 STROKES - 9 RADICAL - 钅Elements  ----  Open mouth 欠 + metal 钅. Phonetic series 欠. A person with the mouth opened 欠 before a metallic 钅 (jīn phonetic) or golden object.钦佩  qīnpèi - admire; esteem. 钦慕  qīnmù...